In our agency, we take great pride in the quality of service we provide for our customers.
Whether our clients need help filing a claim, processing a payment, or just understanding their insurance coverage we'll always be there ready to help.
We know our clients and we know insurance, so our clients enjoy the peace of mind that comes with knowing their insurance agency can help them regardless of how big, small, unique, or specific their insurance needs are. With the years of experience we bring to the table there isn't much we haven't seen before, and you never know when that's going to come in handy.
Thanks for taking the time to learn more about our agency and please feel free to contact us any time about anything.

About April Jones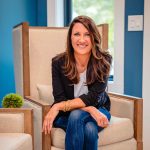 April was raised in Wilmington and has two school-aged children, Abby and Bobby. She enjoys time home with her family and travel.
April was a captive insurance agent in the Wilmington area for many years and has a broad base of customer and referral partners who have relied on her guidance and suggestions for protecting their family's needs. It was her desire to offer more choices for insurance to provide the best rates available to her customers and to cover needs unavailable in the captive market. She loves the shift to the independent side where she can solely focus on the needs of her customers.